Workshop: Redefining microbial genomics:
The power of sequencing individual cells
September 19-24, 2010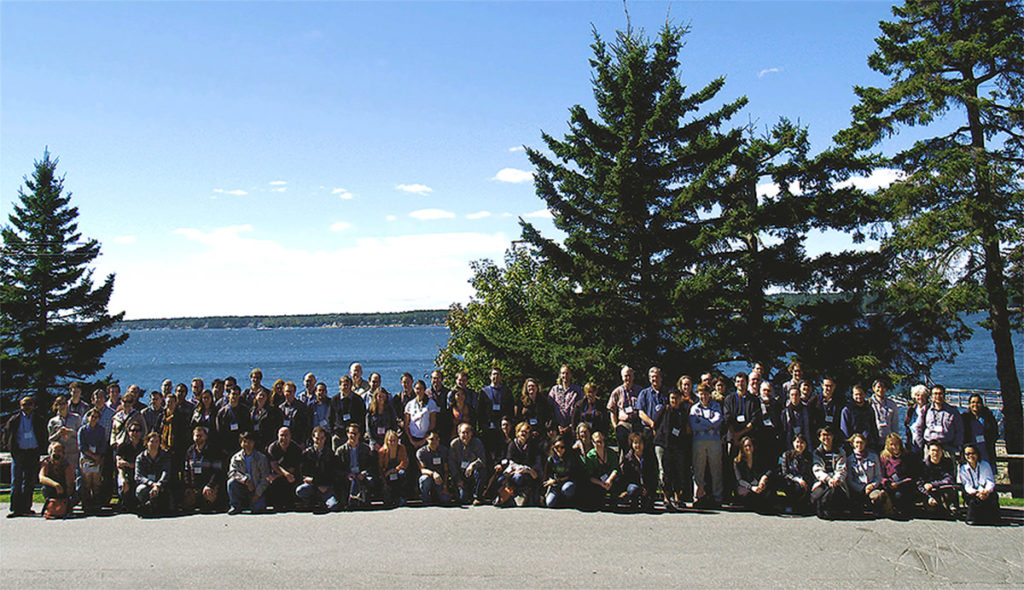 Workshop hosts:
Ramunas Stepanauskas and Michael Sieracki, Bigelow Laboratory for Ocean Sciences
Workshop coordinator:
Nicole Poulton
Workshop Program
Sunday, September 19, 2010

Arrival and registration

5:00 - 7:00 pm
Welcome Reception & Registration at the Spruce Point Inn -
Location: 88 Grandview - Oceanfront Dinning Room

Monday, September 20

Research presentations - Location: Pemaquid Hall

7:30
Breakfast
8:40
Welcome and logistics
Graham Shimmield and Ramunas Stepanauskas
Bigelow Laboratory

General topics

9:00
Dissecting environmental ecosystems with single cell genome sequencing
Stephen Quake
Stanford University
10:00
Single cell genomics at the JGI: From small symbiont genomes to massively expanding the tree of life
Christian Rinke
DOE JGI
10:30
Coffee break/discussion
10:45
Use of single cell genomics for the human microbiome project
Roger Lasken
JC Venter Institute
11:15
Putting single cell genomics to work: Scaling up to the microbial challenge
Ramunas Stepanauskas
Bigelow Laboratory
11:45
Open discussion
12:00
Lunch break

Prokaryotes

1:30
Whole genome sequencing of individual bacterial cells from the ocean
Rex Malmstrom
DOE Joint Genome Institute
2:00
Manipulation and genome sequencing of single microbial cells
Hsin-I(Sam) Chiang
Hsin-I(Sam) Chiang UC-San Diego
2:30
The use of single cell genomics for studies of reductive genome evolution in aquatic alpha-proteobacteria
Siv Andersson
Uppsala University
3:00
Coffee break/discussion
3:15
Exploring the diversity and metabolic potential of mesopelagic microbes using single cell genomics
Brandon Swan
Bigelow Laboratory
3:45
Redefining the diversity of freshwater aerobic photoheterotrophs by single cell sequencing
Manuel Martinez Garcia
Bigelow Laboratory
4:15
Marine Synechococcus ecology: do single cells matter?
Brian Palenik
U. California - San Diego
4:45
Open discussion
6:30 - 9:30 pm
Traditional Maine Lobster Bake
Location: Linekin Bay Room

Tuesday, September 21

Research presentations - Location: Pemaquid Hall

7:30
Breakfast

Protists

8:00
Single cell metagenomes reveal the dynamic world of marine protists
Debashish Bhattacharya
Rutgers University
8:30
Single cell genomics approach for the Paulinella genome sequencing
Hwan Su Yoon
Bigelow Laboratory
9:00
Sorting viruses and virus-infected cells: Lessons from a giant
Willie Wilson
Bigelow Laboratory
9:30
Exploring the genomic diversity of marine protists from the Tara Oceans expedition
Olivier Jaillon
Genoscope
10:00
Coffee break/discussion

Technologies: Cell separation

10:15
Getting cells single and clean: flow cytometry secrets revealed!
Michael Sieracki
Bigelow Laboratory
10:45
Laser microdissection: A novel approach to bacterial cell isolation
Paul Scott
Sanger Institute
11:15
Microdroplet-based single cell analysis and genomics
Michael Samuels
Raindance Technologies
11:45
Open discussion
12:00
Lunch break

Technologies: Sequence analysis

1:30
Massively Parallel sequencing has some steep start-up costs. Which one should I buy?
Paul Morrison
Harvard Medical School
2:00
Genome assembly from non-traditional data
Mihai Pop
U. Maryland
2:30
Coffee break/discussion

Technologies: Beyond DNA

2:45
Coupling function to phylogeny via single-cell phenotyping
Marina Kalyuzhnaya
U Washington
3:15
Applications of single cell transcriptomics across biology: Their relevance and feasibility
David Galbraith
U. Arizona

Single cell genomics: Challenges and opportunities

3:45
Open discussion
5:30
Concluding remarks

Wednesday, September 22

Excursions to Monhegan Island and Bigelow Laboratory for Ocean Sciences

Thursday-Friday, September 23-24

Bioinformatics tutorial - Location: Linekin Bay Room

Thusday AM

Genome assembly
Sergey Koren
J.C. Venter Institute
Syllabus: Genome assembly is a pushbutton process on isolate bacteria but challenging on next-generation sequencing and single cell amplified data. In addition, a means to choose the "best" assembly from a set of candidates is needed. The tutorial will include information on data preparation, assembly, and strategies for single cell amplified data. The tutorial will also include an introduction to assembly visualization and validation through a combination of lecture and hands on analysis.

Thusday PM

Genome annotation
Iain Anderson
DOE JGI
Syllabus: IMG provides a wide range of tools for the analysis and comparison of genomes. The tutorial will include coverage of tools that allow the user to select genes found in one set of genomes and missing in another set; abundance profile tools to compare the occurrence of domains across a group of organisms; and tools that enable analysis of synteny across a group of genomes. We will also discuss the tools available in IMG for analysis of metabolic and non-metabolic pathways. The live tutorial will be followed by a hands-on section with exercises, followed by a discussion of the answers to the exercises.

Friday AM

Comparative genomics
Doug Rusch
J.C. Venter Institute
Syllabus: There are a variety of ways to analyze a genome. In many cases environmental data can be used to compare, validate, and enhance the analysis of individual genomes that annotation alone cannot provide. These tools exist in the border land between assembly and annotation and serve to enhance both. This will include methods for rapidly comparing genomes to genomes, methods for analyzing genomes using environmental data with tools like fragment recruitment, approaches for improving single cell genomes with environmental data, and other techniques. This tutorial will include a combination of lecture and hands on learning.
---
Major Sponsors:

Supporters: